Safe at Last!
Marblesoft took a classic logic game and adapted it specially for players with disabilities. Players reveal squares on a grid one at a time, using deductive reasoning to determine which squares are safe and which ones conceal hidden dangers to be avoided.
Safe at Last! can be used with a mouse, keyboard or touch screen, or with one, two or three switches in a special scanning mode.
Incluye versión en español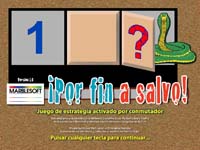 Safe at Last! contains both English and Spanish versions on the same CD.
Features
Multiple levels of difficulty from 12 squares up to hundreds
Puzzles are scaled to fill the screen, making for higher visibility on lower levels
Players can choose to advance after clearing the field or to stay at the current level
Built-in scanning for one, two or three switches
Intelligent scanning makes the game faster and less frustrating for single-switch users
Cognitive age 8 to adult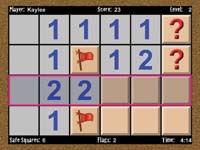 System Requirements
A Macintosh running MacOS 10.3.9 - 10.6, or a PC running Windows XP or newer. Supports keyboard, mouse, touch screen, and switch input from one to three switches.
0400

Safe at Last!
CD for Mac and Windows
Incluye versión en español

$39.00

0401

Safe at Last! 5-pack
5 copies of Safe at Last!

$149.00
Features Chart
System

Input Devices

Switches

Content

10.3.9+

XP+

1 - 3

8 - adult

M

* Using the mouse button or touch screen as a single switch (it doesn't matter where you point).
** Using the mouse or touchscreen for direct selection (by pointing where you want to select).
# A=Art C=Civics/Social Studies H=Health M=Mathematics P=Physical Education R=Reading S=Science Z=Music
Click here to see a feature comparison of all Marblesoft-Simtech products.
Documentation
Download the 26-page User's Guide for a detailed look at the features and options of this program, including screen shots and descriptions.

Descargue el manual en español aquí.
$7.00 flat rate shipping on any order to the continental United States!
Marblesoft, LLC • voice: 763-755-1402 • fax: 763-862-2920 • sales@marblesoft.com