Special Access Games

Marblesoft offers games that are specially designed for students with special needs. In addition to bright, simple graphics and activities designed to challenge all players, each program supports switch input with one to three switches. Each game starts with a relatively easy level and has increasing levels of difficulty to challenge even adult players - no - even teenagers!
Just for fun is our Single Switch Games 2, a set of 14 arcade-style games for single switch users. Unique to this program is our set of four 2-player games for two single switch users to play with each other.
Koppy Kattz is a memory game for one or more players from age 3 to adult. Cause and effect and training activities are suitable for any child. In full "Koppy Katt" mode the game will challenge any player, and a multi-player game can be used with any number of players. As you'd expect from Marblesoft, lots of options let you control program difficulty and fun. Works with a mouse, touch screen, keyboard or from 2 to 6 switches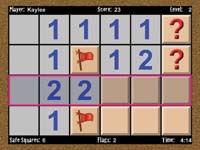 Safe at Last! is our most challenging program ever. It is designed to interest the brightest switch users by testing their deductive reasoning skills. This program is for older child and adult players levels who have special physical needs. It is not intended for students with learning disabilities.
Marblesoft Games combines Single Switch Games 2, Koppy Kattz and Safe at Last! on one CD at a reduced price.
$7.00 flat rate shipping on any order to the continental United States!
Marblesoft, LLC • voice: 763-755-1402 • fax: 763-862-2920 • sales@marblesoft.com