-
The Simtech Super Bundle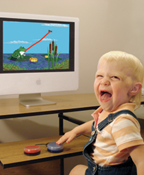 The Simtech Super Bundle
The Simtech Super Bundle includes the entire Simtech Single Switch Collection
System Requirements
A Macintosh running MacOS 10.1 or newer, or a PC running Windows XP or newer. For switch access, requires a switch interface and one or more switches.
2400

The Simtech Super Bundle
(Mac and Windows CD)

$299.00

2401

Simtech Super Bundle 5-pack
5 copies of the Simtech Super Bundle

$1,199.00

2900

Simtech Super Bundle Upgrade
(to version 2.7)

$149.00
Features Chart
System

Input Devices

Switches

Content

10.4+

XP+

1 - 3

2 and up

* Using the mouse button or touch screen as a single switch (it doesn't matter where you point).
** Using the mouse or touchscreen for direct selection (by pointing where you want to select).
# A=Art C=Civics/Social Studies H=Health M=Mathematics P=Physical Education R=Reading S=Science Z=Music
Click here to see a feature comparison of all Marblesoft-Simtech products.
$7.00 flat rate shipping on any order to the continental United States!
Marblesoft, LLC • voice: 763-755-1402 • fax: 763-862-2920 • sales@marblesoft.com